+3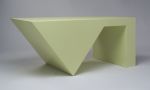 Custom options available, ask the creator for customization.
The crisp, clean-lined Sawtooth table's construction consists of a rugged plywood frame entirely veneered with thick maple veneer. The piece is then meticulously detailed and then sprayed with several coats of pigmented conversion varnish and a clear final topcoat. It is pictured with my Wise armchair and my "Inheritance" sculpture.
Have more questions about this item?