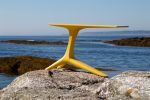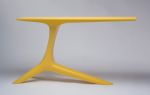 Yellow Crane Console Table
This table is the latest edition of my painted Crane tables. Like the Blue Crane, it is made of poplar and is finely joined with mortise and tenon joinery and then hand-sculpted to its finished form. After meticulous sanding and detailing several coats of a pigmented conversion varnish are sprayed on it. This particular color is matched to Sherwin Williams' "Gold Finch". The colored conversion varnish is followed by a sprayed, satin, protective clear coat.
The Crane Console table is a dramatic, sculptural piece that I have only recently begun creating, after imagining its form for quite some time. As with my Wedge table, the Crane's cantilever is its most distinct feature. But with the Crane, I have taken the shape and gesture in a much more animated, and fluid direction. The cantilevered top is surprisingly strong and rigid at its end thanks to the gradual taper on the underside and strong joinery where it attaches to the table's upright.
This Yellow version is my latest edition and is presently available to ship/deliver. Please contact me to order or to discuss commissioning a painted Crane table in another color.
Have more questions about this item?