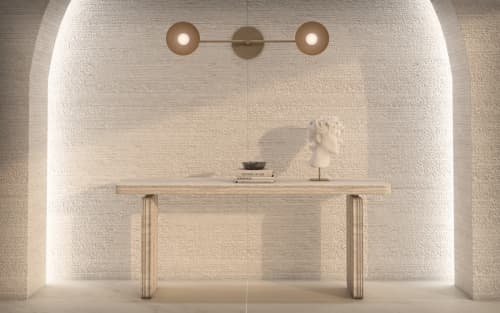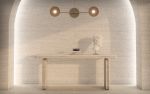 +3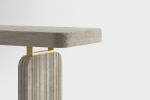 Davani Purity Console Table
Creator not accepting inquiries
The DAVANI + PURITY console table is a stunning, focal-point table for entry halls, lobbies, living areas and anywhere you need a slice of something light, crisp, pure and uplifting. The organic, water-meets-stone aesthetic of this table is intentionally versatile, timeless and elegant.
This slim, elegant console table shares the fluted travertine construction with the rest of the collection, but provides a much slimmer overall profile perfect for throughways and decorative spaces.
The DAVANI + PURITY console table is available in the same eight luxurious stone options as the other tables in the collection.
These color options are complemented by the PURITY console table's elegant polished brass accents, while the fluted base brings the subtle textures of the material to the forefront.
DIMENSIONS
Length: 150 cm
Width: 38 cm
Height: 73.5 cm
FEATURES
Natural Sealing For Stain Protection
Polished brass accent metal
Fluted base
Recessed Light Glow (optional)
MATERIALS
Travertino Paglierino - $ 13,998.00
Bianco Carrara - $ 15,830.00
Bianco Avorio - $ 15,830.00
Bianco Perlino - $ 15,830.00
Rustik Green - $ 15,830.00
Travertino Navona - $ 15,830.00
Rosa Portogallo - $ 16,475.00
Ceppo di Gré - $ 16,475.00