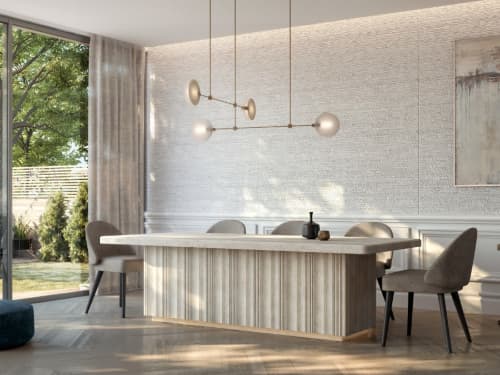 +8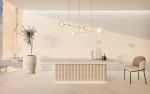 Davani Purity Dining Table
Creator not accepting inquiries
The anchor point of DAVANI + PURITY, this is the world's first and only pure stone extendable dining table with a drop-in leaf that fits into a concealed storage compartment right inside the table.
The sleek expanse of its stone surface appears to float lightly over a sculptural base, the whole inspired by the ripples of water and the natural imperfections that are created by nature when water meets stone. It is made to appear more weightless still by gentle underlighting at the floor.
The unparalleled integrity of the travertine makes this table both pure in form and enduring in function and beauty.
It is a table meant for gathering, for conversation. Whether for residential dining or corporate meetings, its striking beauty and organic elegance is meant to awaken the senses, to aid in becoming fully present both to others and one's self. (You may even want to keep its amazing pop-up USB ports a secret.)
The Davani Purity stone dining table is the first truly extendable luxury stone dining table. Perfect for cozy and open spaces, and comfortable seats up to 10 when fully extended. Our engineers have made the Purity dining table effortlessly extendable for conversion as quick and easy as traditional wood dining tables.
Set the mood with option recessed soft glow lighting at the base of this luxury dining table. The gentle 3500k LED lights provide a warm glow to create an atmosphere of comfort and relaxation.
The Purity stone dining table has been designed for a blend of functionality and style. The 45-degree beveled edge allows for maximum comfort whether you're typing on a computer, or eating dinner with the family.
DIMENSIONS
Length: 250 cm
Extended length: 330 cm
Width: 110 cm
Height: 73 cm
FEATURES
Extendable or Fixed-Length
Natural Sealing For Stain Protection
Concealed Drawers
Soft Underlighting
Beveled Edge
MATERIALS
Travertino Paglierino - $ 28,880.00
Bianco Carrara - $ 33,592.00
Bianco Avorio - $ 33,592.00
Bianco Perlino - $ 33,592.00
Rustik Green - $ 33,592.00
Travertino Navona - $ 33,592.00
Rosa Portogallo - $ 36,081.00
Ceppo di Gré - $ 36,081.00
ACCESSORIES
Metal Inlays (satin brass or bronze finish) - $ 1,550.00
Recessed LED strip around base - $ 1,650.00
Battery for LED strip - $ 550.00