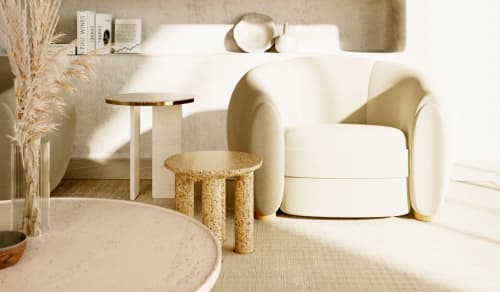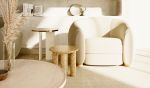 +9

Creator not accepting inquiries
The DAVANI + PURITY Collection is inspired by the rich materiality of natural stone, the gentle shapes of flowing water, and the Zen quest for beauty in simplicity.
This elegant stone side or end table is the perfect complement to any other table in the collection and helps bring a cohesive aesthetic to every corner of the room.
The DAVANI + PURITY side table with its quarter-round, split and angled, fluted base is light and airy enough for bedside, sofa-side or chair-side placement.
The DAVANI + PURITY Collection's stone side tables and end tables are designed with a modern minimalist aesthetic harmonizing with contemporary living, but we are committed to respecting the rich materiality of the stone.
Everything from the design to the obsessively precise construction to the choice of accent metals is shaped by our reverence for the history and geology of the table's marble and travertine.
DIMENSIONS
Diameter: 60 cm
Height: 35 cm
FEATURES
Natural Sealing For Stain Protection
MATERIALS
Travertino Paglierino - $ 5,575.00
Bianco Carrara - $ 4,998.00
Bianco Avorio - $ 4,998.00
Bianco Perlino - $ 4,998.00
Rustik Green - $ 4,998.00
Travertino Navona - $ 33,592.00
Rosa Portogallo - $ 5,981.00
Ceppo di Gré - $ 5,981.00
ACCESSORIES
Metal Inlays (satin brass or bronze finish) - $ 890.00