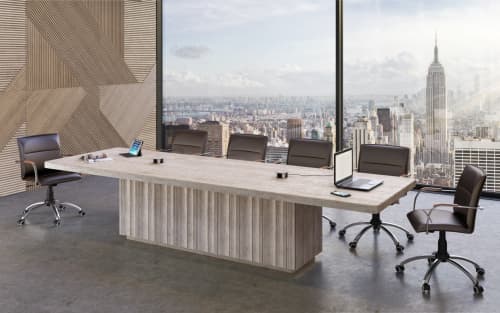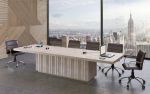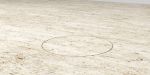 +3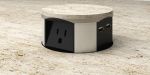 Davani Purity Conference Table
Creator not accepting inquiries
The Davani + Purity stone conference table is the perfect centerpiece to ground your workplace with its calming energy and modern designs.
Inspired by the classic designs of Italian marble and travertine, yet built with modern amenities and features to cater to the latest workplace design trends, including:
Pop up and wireless charging for a variety of devices
Recessed floor lighting, perfect for slide presentations
Comfortable seating for up to 10
Built with modern business needs in mind, the PURITY conference table has multiple charging options.
Concealed wireless charge ports allow your guests to keep their phones and tablets charged at all times, while remaining flush with the table. If you need wired connections, these charging stations pop up to reveal both USB ports and traditional outlets.
The fluted pattern around the base of the conference table highlights the natural features of the Italian travertine stone, creating a one-of-a-kind classical, yet modern aesthetic.
The warm glow floor lighting is perfect for slide deck presentations, conference calls, and meetings where dimmed lights are preferred. The 3500K LED lights provide soft, warm light that's perfect for cultivating an atmosphere of creativity and openness.
DIMENSIONS
Length: 330 cm
Width: 110 cm
Height: 73 cm
FEATURES
Pop Up & Wireless Charge Station
Seats Up To 10
Fluted Base
Soft Underlighting
Beveled Edge
MATERIALS
Travertino Paglierino - $ 42,855.00
Bianco Carrara - $ 39,886.00
Bianco Avorio - $ 39,886.00
Bianco Perlino - $ 39,886.00
Rustik Green - $ 39,886.00
Travertino Navona - $ 43,776.00
Rosa Portogallo - $ 44,262.00
Ceppo di Gré - $ 44,262.00
ACCESSORIES
Metal Inlays (satin brass or bronze finish) - $ 1,550.00
Recessed LED strip around base - $ 1,650.00
Battery for LED strip - $ 550.00
Pop-Up socket+USB (2 pcs) - $ 750.00
Wireless charger for smarthphones (2 pcs) - $ 650.00