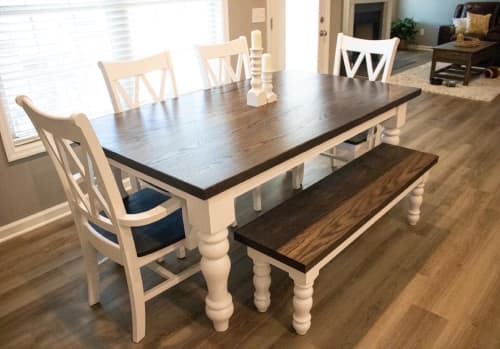 Image credit: Audra Clines Photography


+4

Custom Options Available.
Ask The Creator
For Customization.
Description coming soon!
Production time: 4 Weeks (Add this to our current lead time for this piece)
Not sure what table size you need? We got you covered. Check out the link below.
Click here
If a custom color (other than white) paint for your table base is desired we can do that too!!
Paint options include all colors within the Sherwin Williams Brand and even some other brands as well.
Note: If a custom color is not desired our house color is Bistro White #7006-4
Not sure what color you want? Try the link below.
Paint color
Cant find the right color in the link? That's alright! As an alternative option you can also pick your color out at Lowes and provide us with the name and number.
Stain Color Options can be found using the links below.
Rubio Monocoat Precolor
Rubio Monocoat 2C oil
All pieces must have a 2c Oil applied. This is the protective coat and comes in different shades.
Pre Color is an additional dye only step to achieve a desired color but is not required.
Colors of each product can be combined.
We encourage our clients to research Rubio Monocoat social media pages to help make their decision on color. With the ability to combine the Pre color with the 2C oil there is an endless possibilities.
Colors are for reference only and are not binding. Real wood will very from tree to tree and may therefore very in features, grain, and color.
Have more questions about this item?