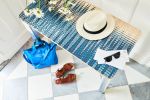 Featured In Upper East Side Apartments, New York, NY
Custom options available, ask the creator for customization.
Niccolo Baldi (b. 1986, Milan, Italy) offers a fractal, algorithmic, almost architectural interpretation of the cruelest, most hopeful season. Requiring a super computer to render to the artist's standard and with mirror polished aerospace grade aluminum from edge to floor, this work is the most challenging and rare production of Chassie's studio. Standard dimensions are Height: 29 Inches; Width: 47 Inches; Depth: 23 Inches, but let us know if you would like a custom size.
Have more questions about this item?