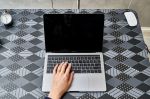 +2

Art Deco Desk - Tables
Featured In Upper East Side Apartments, New York, NY
Milton Glaser is the legendary designer behind I Heart NY, New York Magazine, and Bob Dylan's psychedelic greatest hits album covers. He is perhaps the most impactful and well known graphic designer ever.
We first met Milton at his studio in Chelsea when he unveiled his model for an original Chassie desk. Knowing there would be no notes or second guessing his work, we were anxious.
Milton's exploration of Art Deco pattern making will set the tone for everything we do going forward.
Desk size is 54x27in or 47x23in
Free Shipping: UPS Ground free within the continental US
Invisible Charging: 10 Watt dual-coil concealed Qi wireless charging
Remarkable Wood: Wipes clean after doodling with any whiteboard marker
Floating Shelf: Clearer-than-crystal Lucite shelf floating as if by magic
Have more questions about this item?