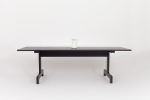 +3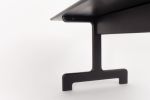 Physalia Dining Table
Featured In Reunion Goods & Services, New York, NY
Custom Options Available.
Ask The Creator
For Customization.
An impressive showing tonight by all who are participating in this year's Collective Design. Cameo: Physalia dining table in Reunion Goods & Services' lounge.
The Physalia Dining Table's clean lines provide a blank canvas for the everyday, while the soft curves feel equally smooth under your forearms or your stockinged heels. The tabletop's sturdy boards joined together with loose tenons, will maintain the table's even surface over years of rigorous use. The top is easily removed by pulling out the four solid brass pins. Designed for convenience and flexibility, the Physalia packs flat and can be assembled or disassembled in minutes.
Shown here in American Walnut and Ebonized Oak. With regular or low foot profile. Sizes range from large dining table to small desk.
Custom tabletop dimensions available upon request.
Have more questions about this item?