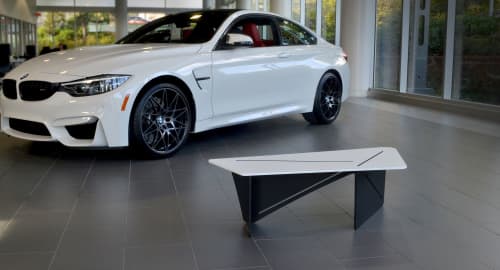 Image credit: Cristian Arostegui G.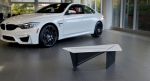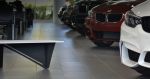 +1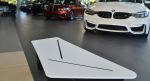 The A-47 is a modern design inspired by automobile lines and irregular shapes. This friction fit design has no welds or hardware, only highly accurate tongue and groove joinery.
This furniture piece can easily disassembled, flat packed and put away. Ideal for small spaces.
The A-47 came up in response to the tendency of people living in small footprint properties! People are currently living in smaller spaces due to the very high cost of properties; therefore, a small footprint table that can be easily put away is an ideal option.
The 3"/8"th. aluminum is laser cut and then powder-coated with sandtex finish, a matte, textured and highly durable finish, making the table ideal for either interior or exterior.
The A-47 consist of 4 pieces interlocking together firmly, creating a very firm and strong table. The 3 black pieces (base) connect together and then the top is set to lock the other pieces.
44 1/2"L x 14"-21"W x 13"H.
Have more questions about this item?