Image credit: photo credit: Alexis Courtney, alexiscourtney.com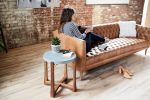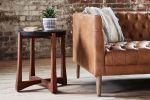 +8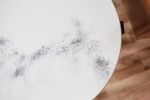 Concrete + Carved Wood End Tables
Inquire about Comissioning a Custom piece
Quiet end tables that reveals the work of the hand. Pictured are three variations of design.
The interior sides of the wooden base are hand carved and ebozined before burnishing to highlight the natural wood and gouge marks. Gentle sanding around one of the ebonized walnut tops reveals the gouge marks along the edge. Wooden bases are formed from half-lap joints, spokeshaved legs, and a rabbited detail to encase the table top.
Concrete tops add a modern layer. When pouring the concrete, colored powder is spread in random patters to create speckling. As the concrete is poured on top, it's weight and movement spread the powder, creating organic designs.
Dimensions can be customized
As shown is: 19.5"x 19.5" x 21.5"
Walnut, Artisan GFRC Concrete, natural ebonized solution, Poly-x Oil
Have more questions about this item?