Image credit: photo credit: Alexis Courtney, alexiscourtney.com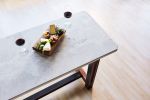 +10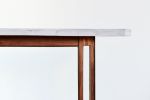 Concrete, Steel & Walnut Madden Bar Table
Inquire about Comissioning a Custom piece
The combination of materials sets this bar apart. From the artisan-grade concrete for a durable top to the steel and inset walnut base, this bar raises the standard for your intimate gatherings.
Wood is technical and precise and require exacting attention. Concrete is scientific in it's mix design and mold construction, but then lets go of control as you start to pour. This release is critical in my practice. Concrete is fluid, both in material and in mindset. I can control it up to a point, and then it becomes one unto itself.⁠ ⁠ This piece is a balance of precision and fluidity.⁠
Custom metalwork is done by Ramsey Artworks with custom finish by Bruin Design. The precision, craftsmanship, and attention to detail of both these metalsmiths are unmatched, and I am always eager to collaborate with them on projects.
Dimensions can be customized
As shown is: 66" x 26" x 41"
Walnut, Steel, Artisan-Grade GFRC Concrete, Rubio Monocoat
Have more questions about this item?