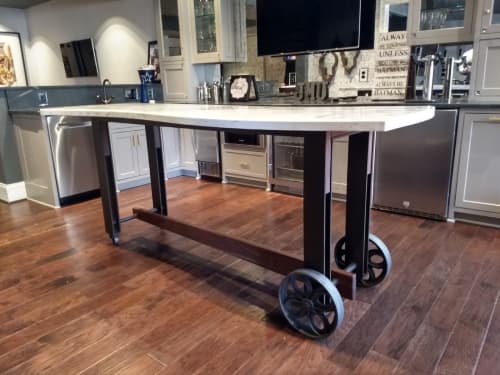 +5

Rolling Concrete & Steel Bar Table
Inquire about Comissioning a Custom piece
A rolling bar to entertain both indoors and out. This custom piece was designed for a unique space where the bar is the center of attention for dinner parties, celebrations, and evenings with friends - and can also be rolled to the covered deck for outdoor parties.
A curved concrete top is designed to sit 8 and works well both for both long dinner parties or without the chairs as a more casual standing bar.
Custom metalwork is done by Bruin Design. Rusty's skills with metal are incredible. His precision, craftsmanship, and attention to detail are unmatched. I always get excited when I can incorporate his skills into projects.
Vintage casters are from Iron Anarchy. The work Hylton does on casters is impressive to say the least - you'd never know they are a century old from the look of them. His selection is terrific and his customer service is spectacular.
Dimensions can be customized
As shown is: 87" x 30" x 40"
Walnut, Steel, Artisan-Grade GFRC Concrete, Casters, Rubio Monocoat
Have more questions about this item?