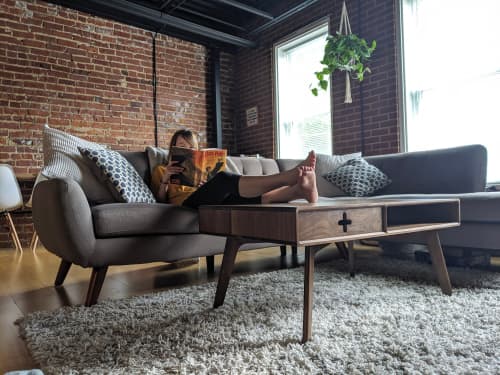 +4

Coffee Table Plus in Solid Walnut / Mid Century Modern
This elegantly handcrafted, mid century modern, solid walnut coffee table is the perfect centerpiece for your living room, or social area. Created for the "Plus" line it features sophisticated Scandinavian minimalism without being dull.
Using only solid walnut and maple, this mid-century coffee table is hand-made locally in Chattanooga, Tennessee with the utmost attention paid to detail, craftsmanship, and quality. You will find no compromises here.
The Coffee Table "Plus" consists of one sliding drawer with walnut drawer face, tapered legs, and the distinctive "Plus" hand hold cutout. It is made to last from solid walnut with a stunning satin finish. The drawer body is made from solid maple and connected with a beautiful dovetail joint to create a lovely contrast. The white drawer face is slightly recessed to blend cleanly with the beveled inside edge. The Coffee Table "Plus" also features solid legs that are easy to mount, but won't wear out over time like you see from the flimsy metal mount brackets on so many other mid century style products.
Dimensions:
Width - 40 in (101.6 cm)
Depth - 24 in (61 cm)
Height - 18 in (45.7 cm)
Leg Height - 13 in (33 cm)
Materials:
Solid Walnut (Legs & Body)
Solid Maple (Drawer Body)
Walnut Veneer Plywood (Backing material)
Shipping: FedEx 2-10 days
$200 Shipping in the US, ask the creator about international shipping.
Estimated Arrival: December 7, 2021
Have more questions about this item?