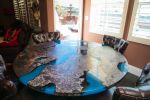 +1
Maple Burl "Scorched Earth" River Dining Table
One of a Kind item
Inquire about Comissioning a Custom piece
We've been commissioned to build a 58" round ebonized big leaf maple burl dining table featuring a deep translucent blue planetary resin art. We are calling this our "scorched Earth" dining table. It's also getting a custom plasma cut steel tree base finished in smoke chrome powdercoat.
We sourced some of the best trophy grade Maple burl slabs we could get our hands on, specifically rustic curvy unusual shape pieces to form the landmasses of our planet composition. We had several of the large thick chunks re-sawn to match our other pieces which were all then flattened and thickness matched on CNC prior to ebonizing and casting in food-safe eco friendly resin.
Have more questions about this item?