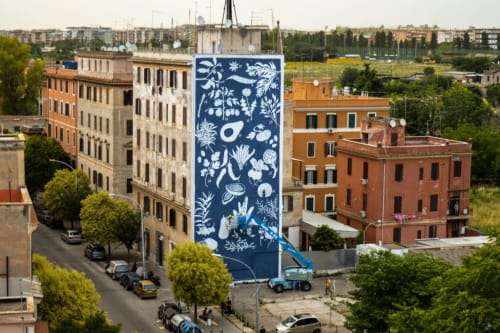 Image credit: Cristina Streetart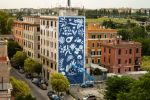 +4

Herbarium. An open window in the neighborhood. Blue background, as in cyanotype. White herbs, plants, fruits from the kitchens in the area. Latin names to introduce to the passers-by the natural protagonists of the multicultural, complex, and fragile ecosystem that Torpigna is. It's hard to define the neighborhood of Tor Pignattara: its boundaries are irregular, different voices, accents, traditions, and beliefs circulate in it, it stimulates various, often contrasting opinions. What really identifies the area might be the depth to which its diverse communities are rooted there.
The plants represented in Herbarium all come from the parks and the traditional recipes of the people living in the neighborhood. The wall unfolds as the wide page of an old herbal to show the traces of the cultural richness of Tor Pignattara and its flavors.
Workshop and project curated by SPACE Tor Pignattara and Wunderkammerngallery.
Have more questions about this item?