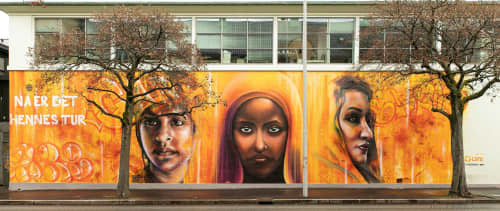 Image credit: By Øistein Jakobsen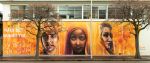 +1

Nå er det hennes tur! - Street Murals
Featured In Bergen, Norway
Nå er det hennes tur! / Now it's her turn!
The 30th September 2019 four artists started painting a mural in Lars Hilles Gate in Bergen, Norway, on the back wall of Bergen Kunsthall. It is a charity piece, initiated by the Norwegian charity organization CARE, TV-aksjonen NRK and Galleri Gategalleriet.
Four different styles are blended together in one big collaboration piece. Graffiti artists Bares and Yasja Ligtelijn painted portraits over a background decorated by Tegson and No1927.
Tegson is a Scandinavian based artist working in the public space. With roots in Bergens early 2000s graffiti environment, he has developed a unique urban expression through the years. He is well known by his abstract trademark of organic shapes and a physical process of rolling, spraying and throwing paint.
Norge1927 is a local graffiti shop in Bergen run by a group of graffiti artists who do a range of projects from images of characters to more text/lettering based work. It is an important part of Bergen's urban community and here a representative from the shop joined to paint the 'Care' letters on the wall.
The middle portrait is done by Bares. Bares is originally from Siberia, but grew up in South America. The past years he's been based in Bergen and has become a fundamental part of Bergens urban scene with a background in wild style letters and graffiti-pieces.
The other two portraits are done by Yasja Ligtelijn. Yasja is from the Netherlands and drove alone with her old Peugeot, fully tagged by other graffiti-artists, to Norway to work on different mural projects. Her paintings are dark and lively at the same time. Primarily her art is focused around portraits of courageous and inspiring people. Her free-work is based on her own emotions and personal experiences.
The theme of the mural is based on CARE's work for women in less economically developed countries, to be able to have a voice. The artists chose to paint portraits of three courageous and powerful women as the main focus on the wall. The yellow and orange color scheme of the mural demands attention and gives the street in rainy Bergen a warm and positive vibe.
Pictures by Øistein Jakobsen
Stay tuned for the TV action 20.oktober. 2019
Have more questions about this item?