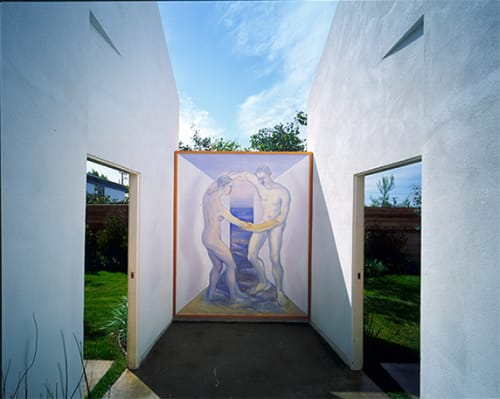 Dream of the Two Houses
This is the original site of the mural, Dream of the Two Houses on Third Street in the Ocean Park section of Santa Monica, CA.
It was commissioned by Wellstone Inc. Architectural Associates and designed by architect, Jesse Bornstein (www.bornarch.com).
The mural is 10' x 8', fresco pigment in Lascaux medium on water-proofed wood panel and was installed in the courtyard between the two houses. The forms of the houses inspired the mural's theme of the two buildings' yearning to be human. and touch. The Pacific Ocean, 3 blocks behind them to the West, swirls around their feet, in the mural., perhaps intimating progeneration between the couple.