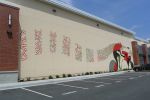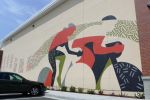 +4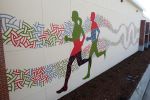 Sports Mural - Street Murals
Featured In DICK'S Sporting Goods, Santa Rosa, CA
This is a City of Santa Rosa percent for art public art project on the side of a new sports store. There were strict design stipulations and restrictions, but the weave-like patterns relate to my paving piece, Seed, at the same location, and the use of negative space is something I always enjoy. I really like how the pieces work on the huge scale!
The pieces are 90 x 25ft each, and are located at Dick's Sporting Goods, Coddingtown, Santa Rosa. I had invaluable help in the execution of this project from Scott David Smith.
Have more questions about this item?