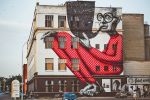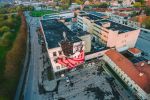 +3
Old Wiseman - Street Murals
Our most difficult, most inspiring, altruistic dream and idea.
The total heigth of an oldman is 22 meters.
It was painted on a building that is used by variuos artists as a workshop studio.
We wanted to depict knowledge, creativity and respect for past generations.
It was a gift for our native city in Lithuania - Kaunas.
Have more questions about this item?