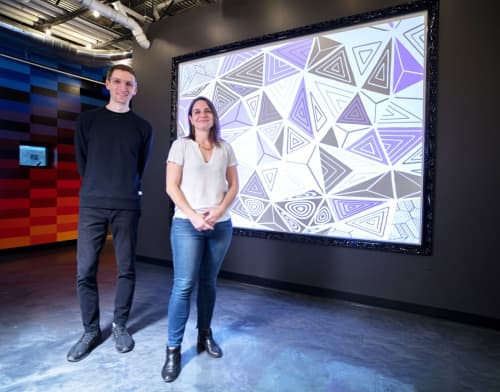 Image credit: Ryan Policky / latenight weeknight


"Conscious Growth" Interactive Digital Mural - Street Murals
Featured In The Collective Snowmass, Snowmass Village, CO
Inquire about Comissioning a Custom piece
Having been in each other's orbit for over 15 years, Cacheflowe and I have finally made the years-long intention to collaborate a reality. Together we created Conscious Growth, an interactive mural installation at The Game Lounge at Snowmass Base Village.
Our piece represents a merging of our disparate disciplines and mutual love of iterative patterns, polygons, and optical illusion art. By exploring and analyzing the underlying systems that bring gneural's work to life, we built a custom shape generator that mimics a small set of my illustration techniques but allows for infinite variations. After iterating on animation styles, integrating hand-drawn textures, and parameterizing the thousands of decisions made by our code every second, we arrived at a self-drawing system that reflects my distinguished and organic graphic style.
Aside from the project's technical aspects, we also wanted to create a fun and inviting piece. Conscious Growth invites the viewer to come and play. As the viewer approaches the mural, it begins to interact with them, revealing life and enjoyment beyond what they expected!
Item
"Conscious Growth" Interactive Digital Mural
Have more questions about this item?