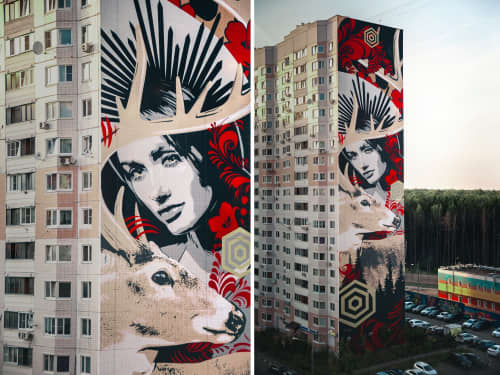 MODERN TALES - Street Murals
Featured In Odintsovo, Russia
MODERN TALES
60 х 14,5 m ( 870 m² )
Material: spray paint, water-based paint.
Description: There are thousands of tales in the world and their plots in a way repeat each other. Despite this, certain details or elements can easily indicate which nation a tale belongs to. Visual perception is one of such markers as it helps to understand the origin of a tale. If a viewer is familiar with Russian historical memory, they will recognize color palette similar to the Khokhloma painting, elements of Russian traditional dressing, images from the tales they heard in childhood, etc. I believe that people will have certain associations with Russian fairy tales. I've tried to give new meaning to old tales by using stencil technique to depict images as well as by adding details common in modern world. Besides, I have used an image of a deer, who on the one hand is featured in multiple tales, but on the other is a symbol of Odintsovo - location of the UMG festival
Have more questions about this item?