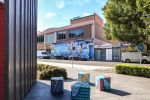 +2

'Of Place' - Street Murals
Featured In Bankstown, Australia
Inquire about Comissioning a Custom piece
'Of Place' was the second mural I had the honour of painting as part of the Dale Parade Mural project. It is directly inspired by the Golden Koi fish trail which is an installation of gold plated koi fish that are cemented in walkways all throughout Saigon Place and from Bankstown Arts Centre to the station. I wanted to paint the piece as if it were like they have swam from the ground to the walls of Dale Parade.
Since the beginning of my art practice, my favourite subject to paint have always been fish; and all through my visits to and from Bankstown Arts Centre I had never noticed the golden koi fish trail until a friend pointed it out to me as I was literally standing on top of one at the site briefing for the works. I thought it was both a funny and awesome coincidence and thought it symbolic of the beauty of small things that go unnoticed in one's day to day.
For commissions, collaborations and all other inquiries, please email me directly at: christina-huynh@live.com
Have more questions about this item?