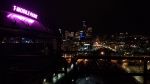 Seattle Mariners T-Mobile Stadium - Signage
Featured In Seattle, WA
The Seattle Mariners T-Mobile Park project is a great example of combining old school, colorful neon and new custom LED technologies into an eye-catching finished product! The 11 and a half foot "T-MOBILE PARK" letters on the roof showcase bright pink neon stroked faces with LED back-lighting with custom programming options.
The outfield sign consists of 5 and a half foot tall "Seattle Mariners" letters lighting with bright blue neon. The sign also features a functioning clock in the shape of a compass and baseball, highlighted in red, white, and blue neon strokes along with a 7 foot tall set of "T-MOBILE PARK" letters with the same bright pink neon and custom programmed LED backlights.
Have more questions about this item?