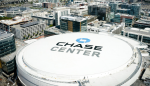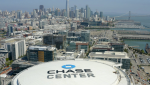 Chase Center Rooftop Letters - Signage
Featured In San Francisco, CA
These rooftop letters house about 5,000 GE LED modules and have over a 1/2 mile of LED lights. There is a 1/2 mile of 5" x 5" structural steel supports that support the letter faces and over 1.5 miles of 2" x 2" aluminum tubing to create the face frame. The front face has over 9,000 sq. ft. of aluminum sheeting and the sign covers 35,365 sq. ft. The logo is 65' x 65' and the letters are 37' tall. The Chase Center rooftop letters required over 10,000 hours to complete and required a huge team effort!
Item
Chase Center Rooftop Letters
As seen in
San Francisco
, San Francisco, CA
Have more questions about this item?