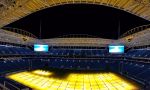 +1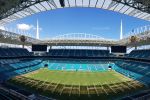 Hard Rock Stadium - Signage
Featured In Hard Rock Stadium, Miami Gardens, FL
This project consisted of six high profile custom badges; four 36 ft badges installed on the exterior elevations of the stadium and two 32 ft badges installed on the interior elevations of the stadium. From receipt of the contract to completion of the project, there was a total of 5.5 weeks to complete this massive scope of work.
Not only was there the obstacle of the tight timeline but in addition, there was an obstacle of site logistics and a finished stadium to overcome. Jones Sign was able to resolve this by strategizing an installation plan that consisted of utilizing an 800-ton crane to install the interior badges from the outside.
Have more questions about this item?