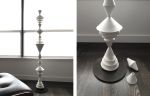 +3

Inquire about Comissioning a Custom piece
I compose these ceramic sculptures from modular handmade pieces. With a nod to mid-century modern, the geometric forms repeat playfully, complementing both plants and architecture. At home, both indoors and out. Installed outdoors, the unglazed stoneware acquires a patina over time.
• One ceramic sculpture: 60" tall, 12" wide at metal base, large cone is 7.5" wide.
Delivered unassembled, the elements are threaded onto the provided metal stand at installation site.
Each composition is unique and may have slight variations.
Have more questions about this item?