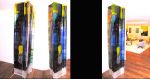 Grand Tango glass sculpture
Walter Gordinier is a Portland-based artist who does large-scale sculpture for private and public venues. He conceives, fabricates and installs proprietary, site-specific works of art for both Interior and exterior placement.
For this private residence on Central Park West, he created "Grand Tango," a colorful, cast glass sculpture ensemble.
Have more questions about this item?