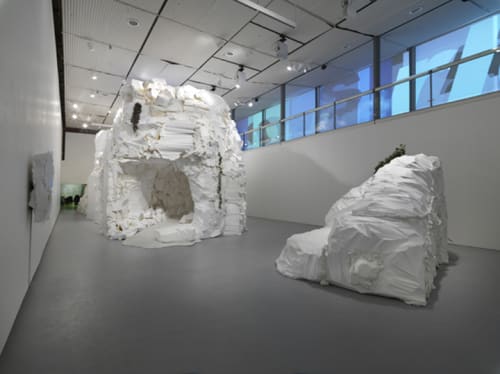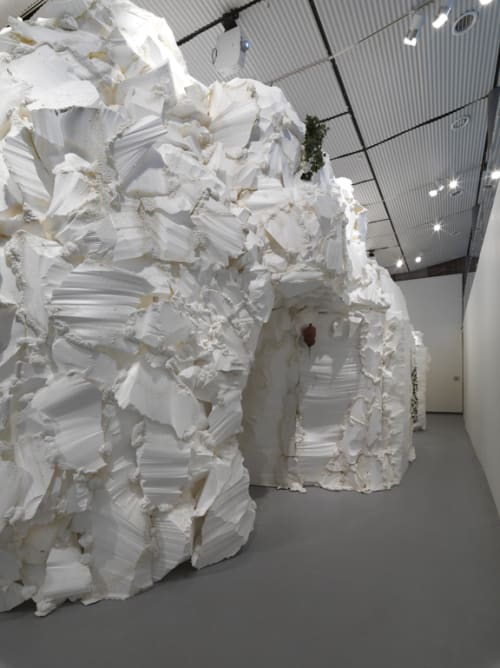 +1

who cares for the sky?
Ott composed an 8,000-cubic-foot mountain out of polystyrene, plywood, industrial spray foam and paint inspired by Gertrude Stein's "The World is Round" (1938), the cultural icon's only children's book. The story follows a little girl, Rose, in her struggle to climb a difficult mountain in order to understand the world better from the top.
Similar to Ott's previous installations, such as her installation last year at the Chicago Cultural Center, "here and there pink melon joy," this mountain creates an immersive space inviting exploration. Visitors may enter the depths of the mountain via a tunnel filled with treasures that leads to a small cave, or climb a stairwell leading to the peak. The tunnels, caves, and grottos will be filled with sound, cocooning visitors in Ott's creative world. Along the interior walls, a smaller installation of precious artworks by nearly 100 artists invited by Ott to participate are arranged and attached by Ott into the mountain. The mountain's intricacies completely envelop the visitors and transform the main gallery.