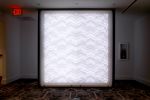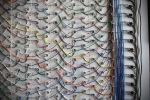 VLVA - Sculptures
Featured In Detroit Foundation Hotel, Detroit, MI
VLVA is a large-scale architectural light installation which lives at the top floor of the Foundation hotel. This wall of LEDs functions as a backdrop to whatever program is happening in the banquet hall, whether it be a bar or DJ setup. All electronics are visible on the back side, and as people seek out the restrooms behind the piece they discover the analog workings of my art: a quilted, colorful, tech-forward dream aesthetic.
Dimensions: 8' x 8'
6600 LEDs
https://vimeo.com/251317968
Have more questions about this item?