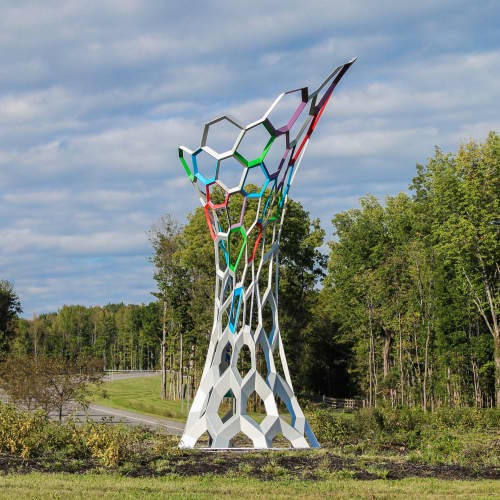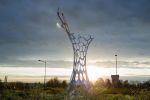 +2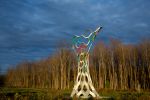 Featured In Marcy Nanocenter at SUNY Polytechnic Institute, Utica, NY
Nano was commissioned in 2013 by the Sculpture Space and funded by MVEDGE. Akan designed and produced the sculpture during 2014 for the new Nanocenter that sits on 420+ acres and has partial funding and partnerships with corporations such as GlobalFoundries, ASML, Applied Materials, G450C, IBM, and Tokyo Electron.
Primary focus behind the artwork is to reference the idea of scale by using sculpture as an apparatus of augmentation. Akan enlarges the hexagonal forms of carbon nano structures to a scale of natural human perception, and references the process of human intervention by changing the properties of the geometry that gives form to the artwork. In fact the entire sculpture was cut out of thin carbon steel sheets that were parametrically calculated, laser cut and welded. Perforated inner polygons of the hexagonal forms aid in the structural integrity and the artwork stands on its own without the need of additional support.
With its concave and convex surfaces "Nano" continues to reflect Osman Akan's fascination with forms that embody several states of being.
Have more questions about this item?