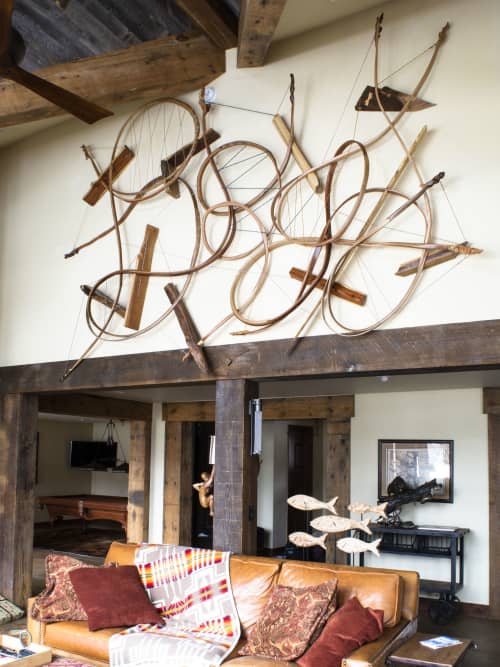 Image credit: Miranda Clark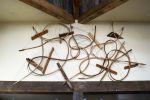 +2

Iliad #1 Wooden Curvilinear Abstract Sculpture
Oliver Clark's Iliad #1 is an allusion to Homer's poem and an abstract composition. Homer's Epic is of heroes and gods struggling for victory. The paths of steam bent wood are people as they intertwine and separate on their journey of life. The cordage implies how people's lives interconnect the same way the multitude of Homer's characters fight for dominance before Troy.
Clark's distinctive style challenges woodworking tradition of machining wood into modular components by alternatively guiding the wood into shape within a liberal tolerance and allowing the piece to retain the tree's vitality. Iliad #1 emphasizes the beauty of the imperfect. The sculpture has the extraordinary potential to unpack the sensorial abilities of our human experience as the eye moves over split wood pieces, hand tool marks, and surfaces with a smooth finish. The different degrees of refinement illustrate how people are not complete, but in a state of growth or decay.
The sculpture is environmentally aware by making the strings out of hemp fiber and using inlay to save flawed wood unfit for functional woodworking. Clark hand-braids the colored strings to form patterned lines in contrast with the natural hues of the wood. The sculpture creates natural color variation by using of twelve types of wood; ash, white oak, red oak, walnut, poplar, maple, bird's eye maple, cedar, cottonwood, mahogany, cherry, and sycamore.
Iliad #1 resonates with a variety of art historical references. Materially by using lapis lazuli, a favorite of ancient civilizations, to outline a prominent butterfly inlay. Connections to the rays, angles and arcs of the compositions of Kandinsky, the wabi sabi praise of imperfection of Nakashima's woodworks, to the rising energy of Brancusi's Bird in Space.
Iliad #1's braided hemp tangles the dynamic curves, twists, and loops into tension causing the eye to wander around the sculpture's massive scape. The curves are energetic diverging into concentric crescents and rejoining to intersect and penetrate pieces of wood. The visual chaos and balance of the composition reflects Homer's notion in the Iliad that neither side has moral superiority, but that they are striving for their own causes. The curvilinear wood transforms into organic flourishes to celebrate the joy of being able to bend and shape wood under the sculptor's hand.
2019 Width: 13ft Height: 8ft Depth: 12in
Have more questions about this item?