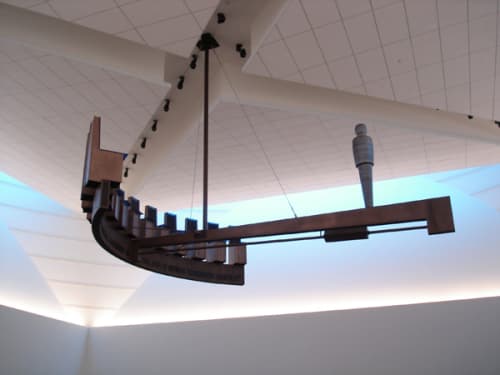 Creator not accepting inquiries
Housed in the edifice of the Bronx County Hall of Justice, 'Equilibrium' raises the issue of citizen responsibility, individual morality and judgment in a democratic society. Made up of Steel, aluminum, LuminOre metal surfacing, glass and stainless steel cable system, this piece was created by Michael Davis.
Upon entering the jury assembly room a mobile-like construction suspends from the vaulted ceiling. A horizontal metal support bar and arc provide a formal base for the conceptual elements that comprise the artwork. Attached below the horizontal support and centered at the figure is a balancing hexagonal weight with words cut into four of its sides–family, community, city, state. Jury participants are able to read the quote from the floor of the assembly room.