+4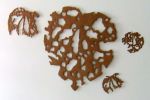 This body of work is a play with how we view nature compared to how we view ourselves, man. We can see a tree showing its experience and age with knots, bulges and carbuncles and still see the beauty that is contained. Though when it comes to humans we have a tendency to forget that we are part of nature, we allow no imperfections.
Through these Kawakawa carvings I aim to see the beauty of the whole, not simply to isolate the perfect..I love the shadow and pattern that these works 'throw' onto the walls..It is as though the imperfection of the holes only adds to their beauty.
Cut and carved marine ply, Sculptures suitable for all outdoor conditions.
Have more questions about this item?