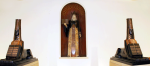 Civilization and Sphinxes - Sculptures
Featured In The Los Angeles Public Library, Los Angeles, CA
This group of sculpture shows Civilization and the Sphinxes, located at the top of the main stairway of the original library, dating to circa 1927. She stands holding a book of inscriptions in her right hand, a torch representing knowledge with her foot on a turtle.
The Sphinxes carry inscriptions related to knowledge by Plutarch.
The Library's website offers this detailed explanation the symbolism of these figures:
"In Alexander's 1927 guidebook essay, he interpreted Goodhue's choice of Sphinxes as representing the limits of human knowledge, the 'darknesses to which the light has not penetrated and to which it may never be expected to reach.'
His was an attitude typical of the period; Greece represented reasoned thought, whereas Egypt exemplified 'the hidden and perplexed wisdom of the priests'. The choice of quotations in ancient Greek from Plutarch reflects this viewpoint. Books that front the two sculptures read (left) 'I am all that was, and is, and is to be, and no man hath lifted my veil'; on the right: 'Therefore the desire of Truth, especially of that which concerns the gods, is itself a yearning after Divinity.'
For what finally became the sculpture of Civilization, Goodhue originally had suggested, '…a sort of localized Pallas (Athena)…she would be dripping with oranges and grapes and things and as unlike her Athenian prototype as could be imagined.' The final version, executed in bronze, copper and marble, was probably conceived in a collaboration between Alexander and Lawrie. More than any other work of art produced for the original library, it features a concentrated use of cultural references and symbols.
The goddess wears a helmet contrived from a model of the library, crowned with angels that reference the city's name and the California bear and star. She holds a staff that rests on a turtle, symbolizing Civilization's dominion over land and sea. Her right hand holds a book containing quotations in five languages: 'In the beginning was the word' (ancient Greek, St. John, gospel i.1); 'Knowledge extends horizons' (Latin Seneca, Epistola); 'Nobility carries obligations' (French proverb); 'Wisdom is in the truth' (German, Goethe); "Beauty is truth–truth beauty' (English, Keats).
A copper panel superimposed on the sculpture represents the history of civilization in pictographic images running from bottom to top: the pyramids for Egypt, a ship of the Phoenicians, the Winged Bull of Babylonia and a tablet bearing the Ten Commandants, the Lion Gate of Mycenae and the Parthenon for the archaic and classical Greeks, Romulus and Remus for Rome, a dragon for China, the god Siva for India, Notre Dame for Medieval Europe, the Plumed Serpent Head for the pre-columbian Mayans, and a buffalo, covered wagon and the Liberty Bell for the United States.""
Have more questions about this item?