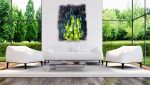 +2

"Forest" Glass and Metal Wall Art Sculpture
Custom Options Available.
Ask The Creator
For Customization.
Living in a city, I spend a lot of time pondering what it would be like to drop everything and to live in the woods? Eventually, my thoughts wander back home and I continue my life in the concrete jungle. But what if? What if every morning I embraced the entrance to the forest - just me and the trees. I wanted to bring the Forest to the city with this wall sculpture. One of my goals in creating any glass and metal wall sculpture, especially in the Grids series, is to bring a new life or new experience into where my work is displayed. With Forest, it's bringing that sense of true, green, nature right into your world. -Karo Martirosyan
Glass and Metal Wall Sculpture
Standard Sizes:
33"W x 42"H x 5"D
Contact us for custom sizes
Free Shipping in the US, ask the creator about international shipping.
Have more questions about this item?