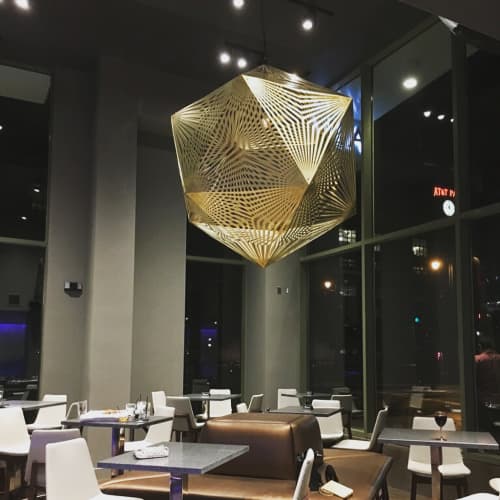 Featured In Hotel VIA, San Francisco, CA
Appearing at first glance as an overzealous light fixture, "Illuminavia" (2017) is yet another of Yelena Filipchuk and Serge Beaulieu's (a.k.a. HYBYCOZO) tremendous tetrahedronal illumination installations, this new one hovering somewhat alarmingly above the bar at Hotel VIA in Miami.
Illuminavia is an icosahedron, a 20-paneled, platonic polyhedron solid made of brass and LED lighting. The sculpture makes use of an optical illusion, the Moire effect, which is the use of interference patterns between the panels to bend the light emitting from the center. If you line up the corners just right, you will see a new dynamic pattern appear between the curves.
Have more questions about this item?