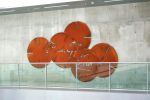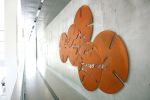 +6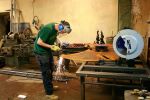 This is An Old Book - Sculptures
Featured In Jatta high school, department Hinna, Stavanger, Norway
The material is 5 water-cut corten steel plates that draw large circles as if they overlap, but all lie in the same two-dimensional plane and form an optical illusion. The circles have a random juxtaposition. The circles are a repetition of the circles in the other artworks of the school.
The book from which the text ("this is an old book") is taken from an combined almanac and prayer book from 1613. The book's almanac is identical to the first printed matter printed in Norway. The printing plates for the Danish almanac from 1613 were used when the almanac was reprinted in Christiania in 1641. This almanac was the first printed matter in Norway. On the inside of the book's cover, it is clear that a previous owner has practiced writing and has written "1760 this is an old book" thus the book was already old in 1760. For centuries this type of books was the only literature to be found in private homes in Norway.
Corten steel plates are attached to a steel frame bolted to the wall. The frame is like a grid that keeps the plates at a uniform distance from the wall and allows the plates to cast shade. The frame is also constructed so that it is not visible behind the Corten.
Have more questions about this item?