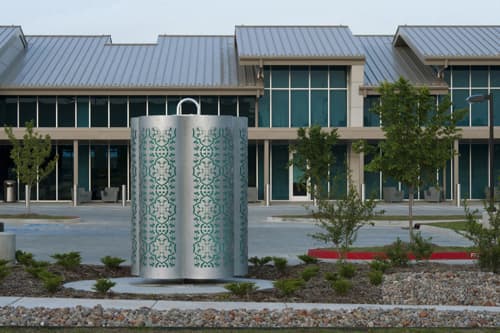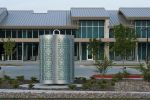 Borrowed Light - Sculptures
Featured In Pioneer Library System - Southwest Oklahoma City Public Library, Oklahoma City, OK
Kinetic - Laser Cut, Powder Coated Aluminum with Choreographed LED Lights
Oklahoma City Public Art Program - 8.5'H x 5'D
Overview
The City of Oklahoma Percent for the Arts Program asked for a sculpture that would reflect the design principles of the newly constructed Southwest Library. Borrowed Light is 8-1/2 feet high and has five cylindrical columns that create a cloverleaf design. The kinetic sculpture is made from 12 sheets of industrial grade aluminum that are laser cut and welded over an internal armature for stability and support. LED floodlights are placed in the interior space of the sculpture, giving the sculpture an added dimension. Borrowed Light is kinetic sculpture that gracefully moves with the wind or by touch.
Goals
Borrowed Light is a kinetic light sculpture created by sculptor, Deedee Morrison and is scheduled for installation at the Southwest Oklahoma Library May 11, 2012. "Borrowed Light and is a visual metaphor for the many journey's of enlightenment a reader can take within the pages of a book. The written word is the "borrowed light of inspiration" that allows a reader to travel the across the universe."
Process
When I begin creating a concept for public artwork, it is an evolutionary process. The request for proposal generally states the mission of the project and what is hoped to be achieved with the public art-piece. The journey begins as an artist, the moment I attempt to translate the project concept into a vision that can be realized into sculptural form. When the form is received and understood - then the process is successful and extremely rewarding for everyone involved along the way. "Ms. Morrison is known for creating thoughtful works of sculpture that speak to a community in deep and meaningful ways. Borrowed Light is no exception. The Pioneer Library System appreciates the City's investment in this beautiful piece of public art for the Southwest Oklahoma City Library. We know it will be enjoyed by all who visit the library." states Anne Masters, Director of the Pioneer Library System, Oklahoma City.
Have more questions about this item?