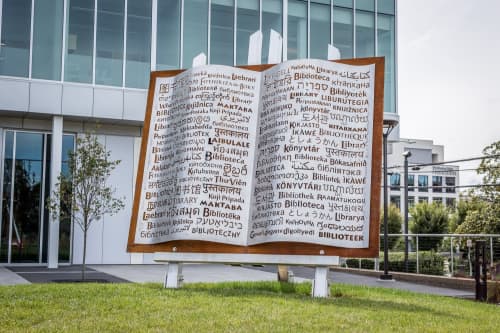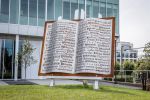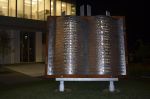 Timeless Purpose - Sculptures
Featured In Forsyth County Central Library, Winston-Salem, NC
"Timeless Purpose" (sculpture with choreographed LED lighting)
is located in the new reading garden of the Forsyth County Central Library in Winston-Salem, North Carolina. It serves as a focal point of the library and will be tied visually and physically to the surrounding environment and downtown community.
The work is highly visible to library patrons, passing pedestrians, and motorists; and is visible from inside the library auditorium and from its third-story balcony. Morrison worked with the stakeholders to craft the message that she had laser cut onto the pages. It was determined through workshops with students, patrons and staff that the word "Library" translated into over one hundred languages, would best express it's "welcome for all" policy.
Have more questions about this item?