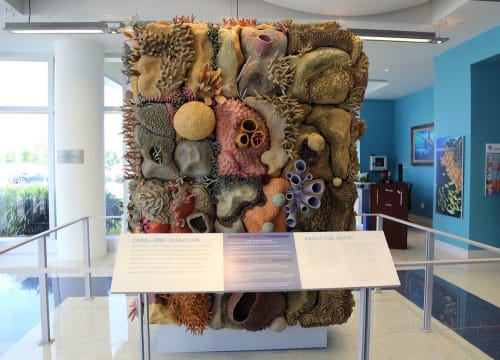 Image credit: Courtney Mattison


+7

Our Changing Seas II 2013 by Courtney Mattison
glazed stoneware + porcelain; fiberboard; aluminum
300 x 200 x 100 cm
This large-scale ceramic coral reef sculptural installation is the second in Courtney's Our Changing Seas series (the first is at AAAS headquarters in Washington DC). This piece was completed in September 2013 and is now on permanent display at the Nova Southeastern University Oceanographic Center's Center of Excellence for Coral Reef Ecosystems Research in South Florida. It stands about nine feet tall, three by six feet wide and is entirely covered in hand-sculpted and glazed ceramic corals, sponges and other reef-dwelling invertebrates from Western Atlantic and Caribbean coral reefs. The piece depicts a 360° transition from a healthy, vibrant coral reef to a bleached and algal-dominated one and back again to illustrate the human-caused threats reefs face with a sense of hope for recovery.
Photos by Courtney Mattison
Have more questions about this item?