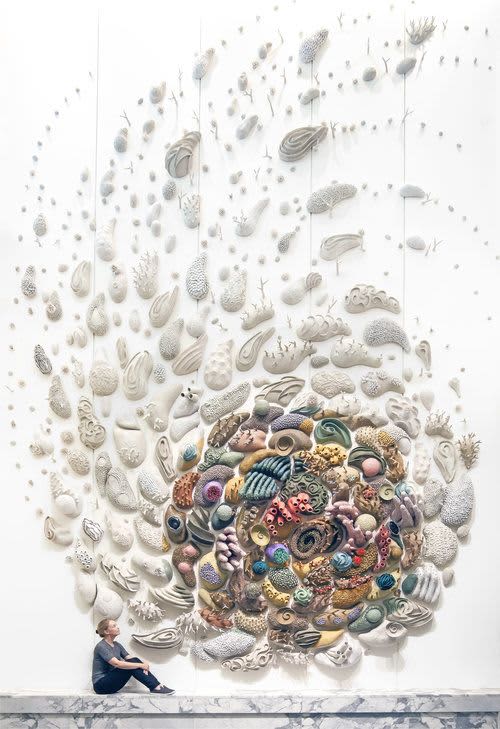 Image credit: Amanda Brooks and Courtney Mattison


+5

CONFLUENCE (our changing seas V)
Confluence (Our Changing Seas V) 2018 by Courtney Mattison
glazed stoneware + porcelain
846 x 570 x 50 cm
Permanent Collection of the US Embassy, Jakarta, Indonesia, Art in Embassies, US Department of State. Curated by Virginia Shore.
Confluence (Our Changing Seas V) pays homage to Indonesia's coral reefs and the value they provide to Indonesians and the world. I hope that the idea of creating such a monumental, intricately hand-detailed ceramic coral reef sculptural installation inspires a sense of excitement in viewers about the connections we share to reefs while empowering individuals and policymakers to act to conserve.
This site-specific installation celebrates the fragile beauty, diversity and value of Indonesia's vibrant reefs while highlighting the human-caused threats they face. Corals, anemones, sponges and other reef-dwelling invertebrates coalesce into a cyclone-like spiral with colorful healthy corals at the eye of the storm, their tentacles and branches dancing in the current. Toward the edges and tail of the swirling constellation, corals sicken and bleach, exposing their sterile white skeletons—a specter of what could be lost from climate change. Yet at its heart the reef remains healthy, resilient and harmonious.
Image by Amanda Brooks for Art in Embassies, US Department of State
Have more questions about this item?