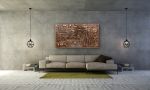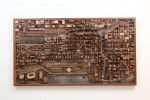 +4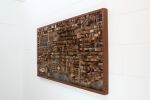 Chicago City Scape - Sculptures
I was inspired by Downtown Chicago and Grant Park because of its features and long history.
I built all of the buildings with a variety of Hardwoods like Black Walnut, White Oak, Red Oak, Sycamore, Sassafras, Maple, White Ash and Hickory. I used encrusted moss and lichen wood for all of the gardens and landscapes. For the small portion of Lake Michigan and the river running through the city I used a wood that has been aged outside which gives it a blue-grey finish.
Some notable features include: Willis Tower, Trump International Hotel & Tower and the John
Hancock Center.
This is the most time consuming piece I have built to date, a lot of planning and work went into building this piece. There are no words to describe how interesting it looks in person. As the light in the house changes so does the art piece, it is an art piece that you will not be able to take your eyes off of; you will never get bored of it. I am sure that this art piece will be the biggest point of conversation in your home.
This artwork has a completely natural patina, which means that it has not been painted or stained. What you see is the natural color of the wood that has been aged for over 80 to 120 years.
The entire piece has been sealed with a low VOC water based sealer to preserve and protect it.
The total dimension of this piece is 54" long by 30" high by 4" deep.
Have more questions about this item?