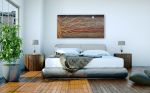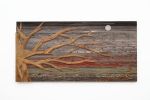 +5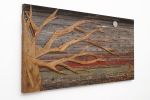 Autumn Bliss - Sculptures
Featured In 948 Lakeshore Rd 107, Essex, Canada
Autumn Bliss
This piece is inspired by the fall weather, when the leaves are changing colors and the winds start to pick up and blow the leaves off the tree. I also added the dramatic effect of night sunset with a full moon coming out to light up the crisp night.
A multi-layered technique it gives the piece depth and life. The wood used in this piece consist of a mix of reclaimed wood I have gathered over the years from old barns, houses and fences taken down in my area. All the patina on the wood used for this piece is due to the aging and weathering process over many years. Most of the colors you see in this piece are completely natural due to the aging and weathering process over time. That is what makes the piece extra special.
This piece can be best appreciated in person; when the light changes in the room and you move side to side the piece comes to life.
Dimensions
Height: 36 Inches; Width: 72 Inches; Depth: 2 Inches
Have more questions about this item?