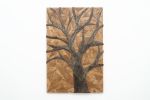 +4
Oak Tree - Sculptures
Featured In 948 Lakeshore Rd 107, Essex, Canada
This geometric shaped tree sculpture is completely made from old reclaimed White Oak Hardwood. There is up to 4 layers of wood that make up this art piece. The back drop of the tree is the underneath layer of the white Oak which gives the tree some contrast. The tree is made up of very old weathered grey White Oak, that also has traces of moss and liken growing on the surface of the wood which I am able to preserve. All of the colors that make up the art piece are 100% natural in color, which means I did not use any stains or paints. The entire piece has been clear coated twice with a water based low voc satin finish to preserve it.
Pictures do not do this large piece justice, when light and shadow hits this piece it comes alive.
This piece measures 60" high 40" wide x 2"deep
Have more questions about this item?