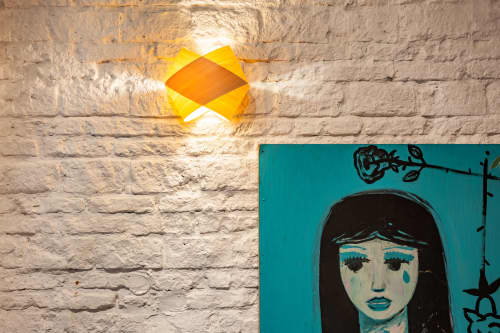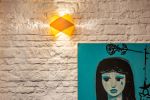 Price $240$240
Price Before Discount $387$387
3 People have this item in their cart right now.
Product Overview
A wall fixture that by its shape receives a place in the Blume Collection. Two pieces of natural wood veneer criss-crossed with each other and linked by stainless steel plates.The Blume family has been awarded the Argentine Good Design Label. Seal #872. Also available in suspension and standing versions.
Measurements InCm
Height 10.6 27
Width 7.1 18
Lenght 12.6 32
Light Bulbs: 1 bulb E27 or E26. LED or Smart recommended.
Product compatible with US, EU, CAN and AU electric supply.
Why Traum? A Craftsmanship Product
Hello! I'm Carlos, founder of Traum. After completing my degree in Industrial Design, I worked many years in Europe with the furniture industry, earning a Master in Project Management from the Polytechnic University of Valencia.
Back in my hometown Argentina, I started my own way into the industry, exploring materials, technologies and designs. Once I figured out the product I wanted with the right quality, I founded Traum in 2012 to pursue my dream into the furniture industry.
Lately I had the opportunity to take part in furniture fairs in France, Italy, Buenos Aires and Chile and started working globally for commercial and residential projects.
Actually we are a team that designs and manufactures for worldwide design lovers, improving the life of people through the lighting. We are ready to help you with anything you need for your project!
Why Wood?
A noble material sourced from sustainable forests, the natural wood veneer has two special properties for lighting design.
First, it is thin and translucent, so the light passes through in a warmer tone. This creates a special atmosphere of day/night transitions and with better lighting capabilities than solid wood.
Second, it clearly displays the wood grain: a natural pattern drawn by nature that makes the design more eye-catching and interesting. Because the wood grain is unique and unrepeatable, your light fixture will have its disctintive and original pattern!
HARZ Ltw: Outstanding Quality
HARZ Ltw is a protective layer made for wood. It prevents damages like dampness, cracking and discoloration. We developed this technology to perform designs with great quality. Expect your light fixture to last a very long time, even under humid or heat conditions.
No maintenance will be required. Just use a damp cloth every time you want to clean the dust!
Technical Information
Product Dimensions:
Measurements InCm
Height 10.6 27
Width 7.1 18
Lenght 12.6 32
Box Content:
0.6mm Kreuz lampshade with Harz/Ltw treatment.
Mounted electric parts.
4'9 ft. trimmable cord (let me know if you want it longer).
Setup instructions.
Carefully Packaged: all our packages are carefully constructed to prevent accidents in transit.
Lightbulb: should be E26 (US and Canada Standard) or E27 (UK, EU, AU, NZ, etc. Standard). We recommend the use of LED bulbs for a better power efficiency.
Product dimmable and compatible with Smart LED.
Personalization: we do changes like increasing the cord length and changing the canopy (ceiling plate). Custom designs are subject to wood availability and design viability.
Check our Frequently Asked Questions or reach me out if you have any questions.
Considerations:
- You are responsible for the applicable taxes and import duties from your country. Let me know if I can help you with anything related to taxation and import operations.
- Cancelling and Returning policy: please see our Shop Policies or send us a message.
Warm up your ambience and create an unique atmosphere with our light fixtures!
Shipping: DHL 5-7 days
Free Shipping in the US, ask the creator about international shipping.
Estimated Arrival: February 18, 2022
| Dimensions | Weight |
| --- | --- |
| 10.6H x 12.6W x 7.1D in | 3.9 lb |
Returns accepted within 14 days
See details
Have more questions about this item?