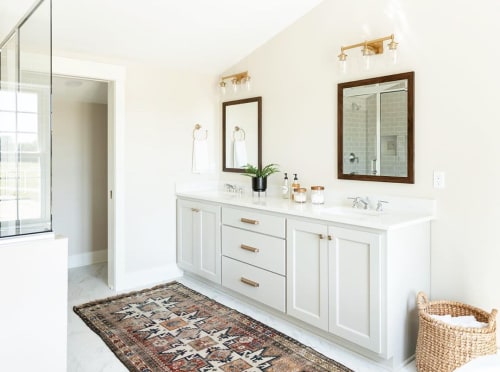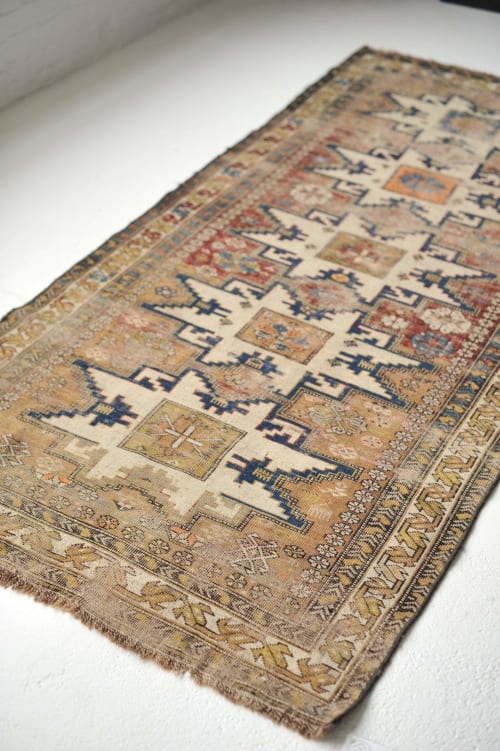 Finn
After 110 years later this Caucasian Lesghi Star Kazak landed in a modern home's bathroom somewhere in the middle of Wisconsin.
Name: Finn
Size: 3.7 x 7.11
Age: Antique
Pile: Low with wear and threadbare in some spots
About: If you ask rug enthusiasts and/or antique rug collectors their favorite types of rugs - half of them will say antique Caucasian rugs - which is what this piece is. It is no surprise that this rug is not only incredible in color palette but iconic in design. The beautiful geometric medallion running throughout this piece is inspired by the terrain and nomadic life these weavers lived every day. It is only through art like this that you can even begin to understand life in the caucus mountains. They heard their own sheep, clean and spin their own wool, collect their own ingredients to dye the wool with rich and vibrant colors and then to pour their heart and soul into creating masterful rugs one small knot at a time. This piece, in particular, is by far one of our favorites as it checks off the many boxes to fall into a category of its own. The colors and intense abrash alone separates it from the pack. The patina and age-related wear only add the very real and stark realization of the age of this piece, along with the stories it would share if it could speak to you with words. Instead, we can just marvel at it and see the soul, along with feel the energy it contains every time it's walked on. This piece is thinner due to its fine weave and quality so a custom cut pad is recommended.
This rug is one-of-a-kind, only one available. Because of the nature and age of these older/antique handmade pieces, irregularities and age-related wear are likely to exist and are not considered defects.
in
Private Residence
, Hartland, WI