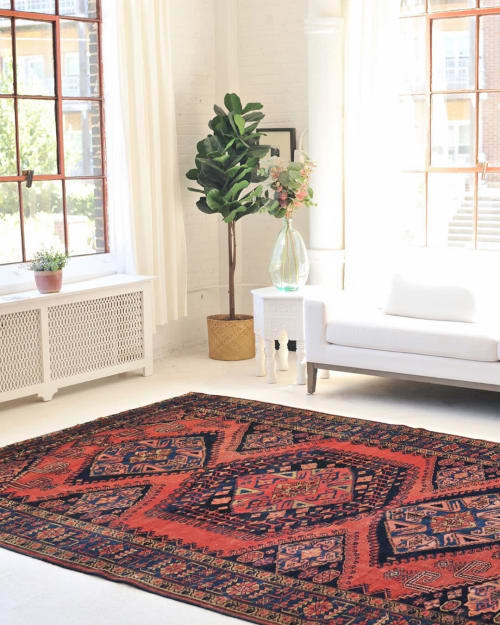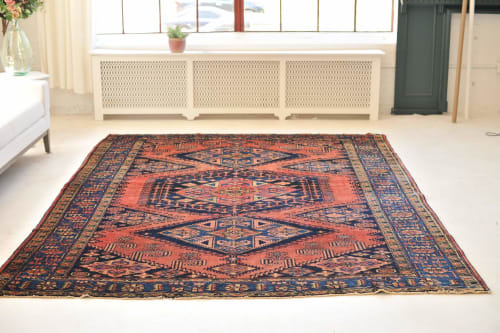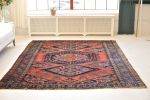 +1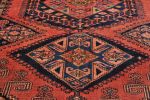 Free shipping in the US, ask the creator about international shipping.
We named this rug NEMO on our site because of the way the coral and navy shimmer in the wool the way scales of a fish shimmer in the water. This bold geometric design is very attractive, but it's the quality of the wool, weave, and dyes that make or break any rug; this one has it all, and then some! Size is 7.11 x 10.3 and seriously the best antique Persian piece in this specific design we've ever seen.
Name: Nemo
Size: 7.11 x 10.3
Age: Antique
Pile: Low / Medium Low
About: Incredible rug with a truly tribal and geometric feel and design. This is a wonderful example of what you want in an antique tribal piece. Bold, but subtle; loud, but classy; and magically lanolin-rich yet sturdy and strong. Very tasteful color palette with a tricky Coral/Salmon/Raspberry. Because of the natural dyes and the shimmer it has, this rug will change colors on you from deep berry to softer salmon-coral. The blues are unbelievable; teal, turquoise, denim, blue-greens, midnight blues, and deep indigo. The rug itself is just very soft with a very nice weave and body. It has some very minimal touch-ups and ancient repairs but nothing super noteworthy, you wouldn't even be able to tell. We named this rug Nemo after the movie Finding Nemo because this rug shimmers like a fish in the water - it is just SO SO beautiful. Hard to put in words, and even harder to capture in pics!
This rug is one-of-a-kind, only one available.
Because of the nature and age of these older/antique handmade pieces, irregularities and age-related wear are likely to exist and are not considered defects.
Have more questions about this item?