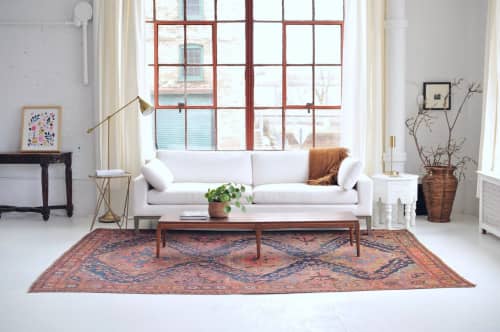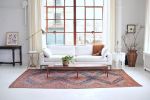 +8

Name: Nuella
Size: 8.2 x 11
Age: Antique
Pile: Low
About: Never again will we see another piece like this. This design, these colors, this condition, wool on wool construction, the running water motif around the perimeter, the bird track motif surrounding the beautiful geometric medallion anchors, the abrash all throughout changing from purple to earthy army green and charcoal black to deep indigo and deep indigo to deep ocean blue and then the pops of punch, tangerine, magenta-blush, with sky blue and pops of ivory. This piece really has it all - it is absolutely gorgeous, wonderful quality, great balance in design, and super unusual color palette. There is a chance this was woven for a very wealthy Turkish family, as most of these beautiful old hand-knotted rugs were commissioned out for royalty and/or specific families. The size of this rug is a rare example of having a beautiful old Caucasian design in a larger room size. Typically these geometric motifs and designs inspired by the Caucus mountains (East of Turkey) come in very small rug sizes because they were woven for themselves and often not for the market or commercial use - so to have it in this size is really special. My grandfather has secured both fringe ends of the rug to prevent from unraveling and hand washed and ready to use. Whether you will build an unbelievable space around this rug or it is the final touch that will elevate the current space - this is a true mystic gem in textile form. This piece has one area that it was restored super well (it's about the size of an apple, so very minimal and barely noticeable - see pic). All in all, this is a one of a kind beauty.
This rug is one-of-a-kind, only one available. Because of the nature and age of these older/antique handmade pieces, irregularities and age-related wear are likely to exist and are not considered defects.
We always recommend a high-quality custom cut pad for any and all rugs; these pads are made for hand-knotted rugs. They create a body and support the knots of the rug, as well as prevent it from slipping and sliding.
Shipping: 14 days
Free Shipping in the US, ask the creator about international shipping.
Estimated Arrival: October 7, 2021
Have more questions about this item?